A Steam iniciou a sua grande promoção de Summer Sale deste ano, no qual até o dia 7 de Julho a loja disponibilizará milhares de jogos baratos no PC, além de Insígnias de Perfil e Cartas Colecionáveis grátis.
Segundo a Valve, "A Steam Summer Sale disponibilizará milhares de descontos para jogos como Forza Horizon 5, Cyberpunk 2077, Ghostwire: Tokyo e muito mais, além de também oferecer novas cartas e insígnias colecionáveis para os jogadores por tempo limitado.".
- Continua após a publicidade -
Tutorial do Evento
Cartas Colecionáveis
Até o dia 7 de Julho, todos os usuários que não possuem contas limitadas na Steam, poderão resgatar uma Carta Colecionável Steam 3000 por dia, através da lista de Descobrimento da loja. Para conseguir resgatar, basta acessar a lista uma vez por dia e conferir todos os jogos listados. A recompensa será entregue ao final da lista.
Também é possível receber mais Cartas Colecionáveis ao realizar compras na loja, criar insígnias de outros jogos e ao comprar diretamente no Mercado da Comunidade Steam.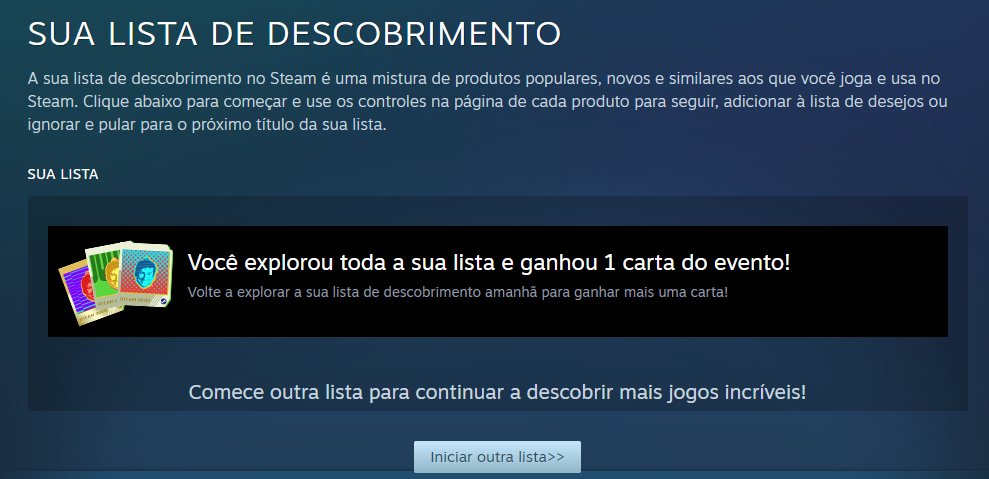 Insígnias
Insígnia Steam 3000
Desta vez é possível criar 3 Insígnias durante a Steam Summer Sale, a primeira Insígnia é chamada de Steam 3000 e pode ser criada ao juntar as 10 Cartas Colecionáveis Steam 3000. A cada nível o jogador receberá 100 pontos de XP.

Insígnia da Festa Paradoxal de Clorthax
A segunda Insígnia é chamada de Festa Paradoxal de Clorthax, no qual para receber, é necessário acessar o evento "Diversão grátis por aqui", onde o jogador precisa encontrar alguns jogos que estão escondidos no catálogo da Steam. Cada pista é para um jogo, no qual ao encontrar os 10 jogos, os jogadores receberão a Insígnia no nível completo. Basta procurar pelos jogos para receber as recompensas.
Lista dos jogos escondidos:
Guitar Billionaire
Custard Castle Small Claims Court
Bass Ain't Bitin' 2022
Dead Seagull Zoo Magnate
Actually… Frankenstein's Monster Edition
It's Probably Fine
Help The King Get To The Toilet
The Consecration Of Esthme
Pro Poker Amateur
Hold In Your Farts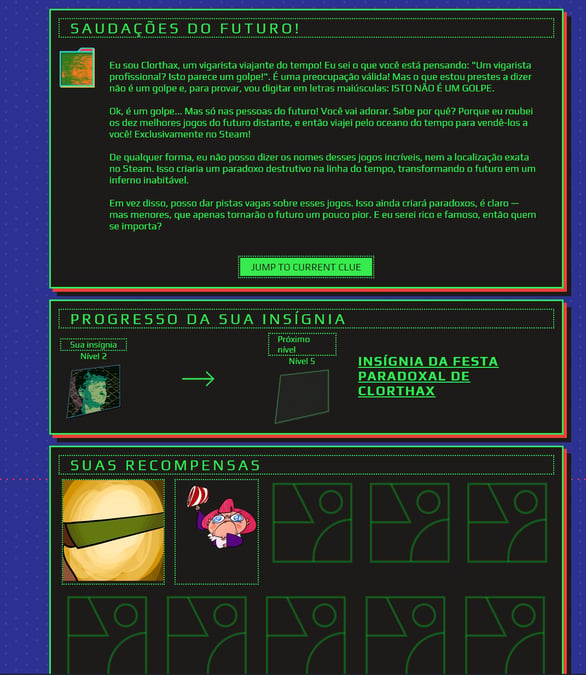 Insígnia Sazonal
A terceira e última Insígnia é chamada de Sazonal, no qual pode ser adquirida através da loja de Pontos da Steam. Jogadores que realizam compras na loja, recebem Pontos para trocar por recompensas extras. Cada nível desta Insígnia Sazonal custa Mil pontos, sendo possível evolui-la até o nível 40, sendo necessário gastar 40 mil pontos, à cada nível o jogador recebe 100 pontos de XP, ao total, pode receber até 4 mil Pontos de XP.

Alguma dúvida extra ? Confira o vídeo completo no Gameplayscassi
Jogos com descontos na Steam Summer Sale 2022
Na tabela abaixo preparamos uma grande relação dos melhores jogos durante a Steam Summer Sale deste ano, no qual você pode conferir o desconto atual durante a Steam Summer Sale de 2022, e também o último desconto que determinado jogo teve durante a última grande promoção da Steam, que foi a Lunar Sale em Janeiro deste ano.
Para melhor visualização, confira a planilha dos jogos.
Promoções Steam Summer Sale 2022
| | | |
| --- | --- | --- |
| Jogo: | Desconto: | Último Desconto: |
| .hack//G.U. Last Recode | R$ 25,98 | R$ 0,00 |
| 7 Days to Die | R$ 13,49 | R$ 13,49 |
| 911 Operator | R$ 5,59 | R$ 5,59 |
| A Hat in Time | R$ 27,99 | R$ 27,99 |
| A Plague Tale: Innocence | R$ 29,99 | R$ 32,47 |
| A Story About My Uncle | R$ 7,24 | R$ 7,24 |
| A Total War Saga: TROY | R$ 107,19 | R$ 119,99 |
| A Way Out | R$ 22,25 | R$ 22,25 |
| Absolver | R$ 11,19 | R$ 11,19 |
| Adam Wolfe ep 1 | R$ 1,79 | R$ 0,00 |
| Age of Empires II | R$ 0,00 | R$ 0,00 |
| Age of Empires II: Definitive Edition | R$ 11,09 | R$ 14,79 |
| Age of Empires IV | R$ 149,99 | R$ 179,99 |
| Age of Empires: Definitive Edition | R$ 8,98 | R$ 8,98 |
| Age of Wonders: Planetfall | R$ 23,49 | R$ 23,49 |
| Akane | R$ 1,74 | R$ 0,00 |
| Alan Wake | R$ 10,14 | R$ 0,00 |
| Alan Wake Collector's Edition | R$ 11,39 | R$ 0,00 |
| Alan Wake Franchise | R$ 14,24 | R$ 0,00 |
| Alan Wake's American Nightmare | R$ 6,50 | R$ 0,00 |
| Aliens VS Predator Collection | R$ 8,99 | R$ 8,99 |
| Aliens vs Predator™ | R$ 5,59 | R$ 5,59 |
| American Truck Simulator | R$ 12,49 | R$ 14,00 |
| Amnesia Rebirth | R$ 17,39 | R$ 19,71 |
| Amnesia: A Machine for Pigs | R$ 5,54 | R$ 3,69 |
| Amnesia: The Dark Descent | R$ 5,54 | R$ 3,69 |
| Among Us | R$ 8,71 | R$ 8,16 |
| Arizona Sunshine | R$ 19,13 | R$ 38,85 |
| ARK: Survival Evolved | R$ 19,13 | R$ 19,13 |
| Arma 2 | R$ 3,99 | R$ 3,99 |
| Arma 3 | R$ 24,99 | R$ 24,99 |
| art of rally | R$ 30,86 | R$ 30,86 |
| Assassin's Creed® Chronicles: Trilogy | R$ 22,49 | R$ 22,49 |
| Assassin's Creed® IV Black Flag Gold | R$ 39,59 | R$ 39,59 |
| Assassin's Creed – Rogue | R$ 19,79 | R$ 19,79 |
| Assassin's Creed 3 Remastered Edition | R$ 59,99 | R$ 59,99 |
| Assassin's Creed Brotherhood | R$ 19,79 | R$ 19,79 |
| Assassin's Creed Bundle | R$ 317,62 | R$ 347,99 |
| Assassin's Creed Freedom Cry | R$ 11,24 | R$ 0,00 |
| Assassin's Creed II: Deluxe Edition | R$ 17,99 | R$ 17,99 |
| Assassin's Creed Liberation | R$ 9,99 | R$ 9,99 |
| Assassin's Creed Odyssey | R$ 44,99 | R$ 44,99 |
| Assassin's Creed Origins | R$ 35,99 | R$ 35,99 |
| Assassin's Creed Revelations | R$ 19,79 | R$ 19,79 |
| Assassin's Creed Syndicate | R$ 22,49 | R$ 22,49 |
| Assassin's Creed Unity | R$ 13,49 | R$ 13,49 |
| Assassin's Creed™: Director's Cut Edition | R$ 17,99 | R$ 17,99 |
| Assetto Corsa | R$ 7,59 | R$ 7,59 |
| ASTRONEER | R$ 27,99 | R$ 27,99 |
| ATLAS | R$ 19,13 | R$ 19,13 |
| Automobilista | R$ 14,99 | R$ 29,99 |
| Back 4 Blood | R$ 139,99 | R$ 167,99 |
| Baldur's Gate 3 | R$ 0,00 | R$ 0,00 |
| Baldur's Gate II: Enhanced Edition | R$ 11,09 | R$ 11,09 |
| Baldur's Gate: Enhanced Edition | R$ 11,09 | R$ 11,09 |
| Banished | R$ 11,89 | R$ 0,00 |
| Barro | R$ 1,08 | R$ 1,14 |
| Batman Arkham City GOTY | R$ 9,24 | R$ 9,24 |
| Batman Arkham Origins | R$ 9,24 | R$ 9,24 |
| Batman: Arkham Asylum GOTY | R$ 7,39 | R$ 9,24 |
| Batman: Arkham Origins Blackgate | R$ 9,24 | R$ 9,24 |
| Batman: The Enemy Within | R$ 11,59 | R$ 14,49 |
| Batman: The Telltale Series | R$ 11,59 | R$ 14,49 |
| Batman™: Arkham Knight | R$ 9,99 | R$ 9,99 |
| Batman™: Arkham VR | R$ 12,49 | R$ 12,49 |
| BATTALION 1944 | R$ 24,00 | R$ 24,00 |
| Battery Jam | R$ 5,79 | R$ 0,00 |
| Battlefield 3™ Premium Edition | R$ 39,80 | R$ 39,80 |
| Battlefield 4™ Premium Edition | R$ 49,75 | R$ 49,75 |
| Battlefield Bad Company 2 | R$ 14,75 | R$ 14,75 |
| Battlefield Hardline Ultimate Edition | R$ 0,00 | R$ 0,00 |
| Battlefield: Bad Company 2 Vietnam | R$ 14,70 | R$ 12,25 |
| Battlefield™ 1 Revolution | R$ 49,75 | R$ 49,75 |
| Battlefield™ 2042 | R$ 124,50 | R$ 144,42 |
| Battlefield™ V Year 2 Edition | R$ 68,70 | R$ 74,75 |
| Battlefleet Gothic: Armada | R$ 10,78 | R$ 10,78 |
| BATTLETECH | R$ 18,87 | R$ 18,87 |
| Bayonetta | R$ 9,24 | R$ 9,24 |
| BeamNG.drive | R$ 37,99 | R$ 37,99 |
| Bean Battles | R$ 1,14 | R$ 1,14 |
| Beat Hazard | R$ 5,09 | R$ 5,09 |
| Bee Simulator | R$ 16,79 | R$ 16,79 |
| Beholder | R$ 2,99 | R$ 2,99 |
| Beholder 2 | R$ 7,24 | R$ 7,24 |
| BELOW | R$ 9,49 | R$ 0,00 |
| BIOMUTANT | R$ 65,67 | R$ 99,50 |
| BioShock 2™ Remastered | R$ 5,99 | R$ 7,49 |
| BioShock Infinite | R$ 22,49 | R$ 22,49 |
| BioShock Remastered | R$ 5,99 | R$ 7,49 |
| BioShock: The Collection | R$ 23,80 | R$ 23,80 |
| Black Desert Online AS | R$ 2,09 | R$ 8,73 |
| Black Mesa | R$ 9,24 | R$ 18,49 |
| Blackguards – Standard Edition | R$ 1,99 | R$ 1,99 |
| Blackout Z: Slaughterhouse Edition | R$ 1,08 | R$ 1,14 |
| Blackwake | R$ 1,08 | R$ 1,19 |
| Blair Witch | R$ 17,39 | R$ 17,39 |
| Blasphemous | R$ 14,49 | R$ 14,49 |
| Blood and Bacon | R$ 1,13 | R$ 1,16 |
| Bloodstained: Ritual of the Night | R$ 30,19 | R$ 30,19 |
| Bloons TD 6 | R$ 6,20 | R$ 8,27 |
| Book of Demons | R$ 17,49 | R$ 17,49 |
| Borderlands 2 Game of the Year | R$ 11,24 | R$ 11,24 |
| Borderlands 3 | R$ 29,97 | R$ 29,97 |
| Borderlands GOTY Enhanced | R$ 23,09 | R$ 23,09 |
| Borderlands: The Handsome Collection | R$ 12,03 | R$ 23,24 |
| Borderlands: The Pre-Sequel | R$ 24,75 | R$ 29,70 |
| Brawlout | R$ 9,24 | R$ 0,00 |
| Bully: Scholarship Edition | R$ 11,99 | R$ 13,99 |
| Burnout Paradise Remastered | R$ 14,75 | R$ 17,70 |
| Call of Cthulhu® | R$ 27,38 | R$ 27,38 |
| Call of Duty | R$ 17,49 | R$ 17,49 |
| Call of Duty – Black Ops II Bundle | R$ 90,99 | R$ 90,99 |
| Call of Duty 2 | R$ 26,24 | R$ 26,24 |
| Call of Duty 4: Modern Warfare | R$ 17,49 | R$ 17,49 |
| Call of Duty: Advanced Warfare | R$ 67,99 | R$ 67,99 |
| Call of Duty: Black Ops (ROW) | R$ 39,99 | R$ 39,99 |
| Call of Duty: Infinite Warfare | R$ 65,96 | R$ 65,96 |
| Call of Duty: Modern Warfare 2 Bundle | R$ 26,24 | R$ 26,24 |
| Call of Duty: Modern Warfare 3 (ROW) | R$ 39,99 | R$ 39,99 |
| Call of Duty: Modern Warfare 3 Bundle | R$ 80,99 | R$ 80,99 |
| Call of Duty: Modern Warfare Bundle | R$ 1.076,71 | R$ 1.076,71 |
| Call of Duty: Modern Warfare Remastered | R$ 74,50 | R$ 74,50 |
| Call of Duty: World at War | R$ 26,24 | R$ 26,24 |
| Call of Duty: WWII | R$ 65,96 | R$ 65,96 |
| Call of Duty® – Black Ops II | R$ 36,29 | R$ 36,29 |
| Call of Duty®: Modern Warfare® 2 | R$ 26,24 | R$ 26,24 |
| Call of Juarez: Bound in Blood | R$ 3,99 | R$ 4,99 |
| Call of Juarez: Gunslinger | R$ 14,99 | R$ 14,99 |
| Captain Tsubasa: Rise of New Champions | R$ 44,97 | R$ 59,36 |
| Car Mechanic Simulator | R$ 0,00 | R$ 1,39 |
| Car Mechanic Simulator 2015 | R$ 0,00 | R$ 3,69 |
| Car Mechanic Simulator 2018 | R$ 9,24 | R$ 11,09 |
| Car Mechanic Simulator 2021 | R$ 37,04 | R$ 41,31 |
| Cart Racer | R$ 1,14 | R$ 0,00 |
| Castle Crashers | R$ 4,99 | R$ 4,99 |
| Castlestorm | R$ 3,99 | R$ 3,99 |
| Celeste | R$ 9,24 | R$ 9,24 |
| Children of Morta | R$ 16,14 | R$ 18,99 |
| Cities: Skylines | R$ 18,74 | R$ 13,99 |
| City Car Driving | R$ 6,23 | R$ 11,03 |
| Cockroach Simulator | R$ 1,14 | R$ 0,00 |
| CODE VEIN | R$ 25,98 | R$ 37,49 |
| Command & Conquer™ Remastered | R$ 20,65 | R$ 20,65 |
| Commandos 2 – HD Remaster | R$ 35,60 | R$ 19,50 |
| Conan Exiles – Standard Edition | R$ 49,74 | R$ 39,79 |
| Conarium | R$ 7,39 | R$ 7,39 |
| Construction-Simulator 2015 | R$ 8,39 | R$ 8,39 |
| Control Ultimate Edition | R$ 38,70 | R$ 39,60 |
| Cook, Serve, Delicious! 2!! | R$ 6,49 | R$ 6,49 |
| Cooking Simulator | R$ 17,09 | R$ 18,99 |
| COUNTER-STRIKE COMPLETE | R$ 5,36 | R$ 5,36 |
| Crash Bandicoot™ N. Sane Trilogy | R$ 75,00 | R$ 75,00 |
| Crash Drive 2 + FREE Gift Copy | R$ 2,62 | R$ 2,62 |
| Crazy Machines 3 | R$ 1,99 | R$ 1,99 |
| Crysis | R$ 22,25 | R$ 22,25 |
| Crysis 3 Digital Deluxe Edition | R$ 22,25 | R$ 22,25 |
| Crysis Remastered | R$ 26,09 | R$ 26,09 |
| Crysis Warhead | R$ 14,75 | R$ 14,75 |
| Cthulhu Saves the World | R$ 1,24 | R$ 1,49 |
| Cuphead | R$ 25,89 | R$ 29,59 |
| Cyberpunk 2077 | R$ 99,95 | R$ 99,95 |
| DARK SOULS III | R$ 0,00 | R$ 0,00 |
| DARK SOULS: REMASTERED | R$ 0,00 | R$ 0,00 |
| DARK SOULS™ II: Scholar of the First Sin | R$ 0,00 | R$ 0,00 |
| Darkest Dungeon | R$ 6,89 | R$ 6,89 |
| Darkness Within 1: In Pursuit of Loath Nolder | R$ 3,19 | R$ 3,19 |
| Darkness Within 2: The Dark Lineage | R$ 3,99 | R$ 3,99 |
| Darksiders Blades & Whip Franchise Pack | R$ 66,11 | R$ 52,88 |
| Darksiders II Deathinitive Edition | R$ 13,99 | R$ 11,19 |
| Darksiders III | R$ 47,49 | R$ 47,49 |
| Darksiders Warmastered Edition | R$ 8,74 | R$ 6,99 |
| Darkwood | R$ 7,49 | R$ 7,49 |
| DARQ | R$ 6,83 | R$ 13,29 |
| Day of Defeat | R$ 2,17 | R$ 2,17 |
| Day of Defeat: Source | R$ 4,13 | R$ 4,13 |
| Days Gone | R$ 99,95 | R$ 119,94 |
| DayZ | R$ 71,99 | R$ 71,99 |
| Dead by Daylight | R$ 19,99 | R$ 19,99 |
| Dead Cells | R$ 23,74 | R$ 28,49 |
| Dead Island Definitive Edition | R$ 7,39 | R$ 7,39 |
| Dead Island: Riptide Definitive Edition | R$ 7,39 | R$ 7,39 |
| Dead Rising | R$ 11,99 | R$ 11,99 |
| Dead Rising 2 | R$ 10,49 | R$ 10,49 |
| Dead Rising 3 Apocalypse Edition | R$ 25,49 | R$ 25,49 |
| Dead Rising 4 | R$ 17,49 | R$ 17,49 |
| Dead Space | R$ 14,75 | R$ 14,75 |
| Dead Space™ 2 | R$ 14,75 | R$ 14,75 |
| Dead Space™ 3 | R$ 14,75 | R$ 14,75 |
| DEATH STRANDING | R$ 0,00 | R$ 71,70 |
| DEATHLOOP | R$ 99,98 | R$ 149,97 |
| Deep Rock Galactic | R$ 19,13 | R$ 28,99 |
| Deponia | R$ 1,99 | R$ 1,99 |
| Deponia Doomsday | R$ 3,69 | R$ 3,69 |
| Depth | R$ 14,69 | R$ 11,39 |
| Destiny 2: Forsaken | R$ 15,19 | R$ 18,99 |
| Deus Ex: Game of the Year Edition | R$ 1,81 | R$ 1,81 |
| Deus Ex: Human Revolution – Director's Cut | R$ 5,24 | R$ 5,24 |
| Deus Ex: Invisible War | R$ 1,81 | R$ 1,81 |
| Deus Ex: Mankind Divided | R$ 9,74 | R$ 9,74 |
| Deus Ex: The Fall | R$ 3,39 | R$ 3,39 |
| Devil May Cry 3 Special Edition | R$ 0,00 | R$ 0,00 |
| Devil May Cry 4: Special Edition | R$ 19,99 | R$ 19,99 |
| Devil May Cry 5 | R$ 29,69 | R$ 59,39 |
| Devil May Cry HD Collection | R$ 23,09 | R$ 46,19 |
| DiRT 4 | R$ 11,39 | R$ 11,39 |
| DIRT 5 | R$ 32,99 | R$ 32,99 |
| DiRT Rally | R$ 11,39 | R$ 11,39 |
| DiRT Rally 2.0 | R$ 11,87 | R$ 11,87 |
| Disco Elysium | R$ 26,42 | R$ 30,19 |
| Dishonored | R$ 5,99 | R$ 7,49 |
| Dishonored 2 | R$ 17,99 | R$ 22,49 |
| Dishonored: Death of the Outsider | R$ 17,99 | R$ 22,49 |
| Divinity: Original Sin 2 | R$ 36,39 | R$ 36,39 |
| Divinity: Original Sin Enhanced Edition | R$ 25,54 | R$ 25,54 |
| DmC: Devil May Cry | R$ 14,99 | R$ 14,99 |
| Don't Starve | R$ 5,17 | R$ 5,17 |
| Don't Starve Together | R$ 9,51 | R$ 9,51 |
| DOOM | R$ 15,37 | R$ 15,37 |
| DOOM Eternal | R$ 59,60 | R$ 49,50 |
| Dragon Age 2 | R$ 37,25 | R$ 14,75 |
| Dragon Age Inquisition Goty | R$ 39,80 | R$ 69,65 |
| Dragon Age: Origins | R$ 22,25 | R$ 14,75 |
| Dragon Age: Origins The Awakening | R$ 7,99 | R$ 7,99 |
| DRAGON BALL FighterZ | R$ 22,48 | R$ 29,98 |
| DRAGON BALL XENOVERSE | R$ 11,99 | R$ 11,99 |
| DRAGON BALL XENOVERSE 2 | R$ 23,98 | R$ 25,58 |
| DRAGON BALL Z: KAKAROT | R$ 47,97 | R$ 52,76 |
| Dragon Cliff | R$ 6,20 | R$ 6,20 |
| Dragon's Dogma: Dark Arisen | R$ 11,99 | R$ 22,49 |
| Drift86 | R$ 1,12 | R$ 1,16 |
| Duke Nukem 3D: 20th Anniversary | R$ 3,69 | R$ 3,69 |
| Dungeons 3 | R$ 34,75 | R$ 45,87 |
| DUSK | R$ 16,64 | R$ 18,49 |
| Dust: An Elysian Tail | R$ 6,24 | R$ 6,24 |
| Dying Light Enhanced Edition | R$ 29,99 | R$ 29,99 |
| DYSMANTLE | R$ 22,03 | R$ 23,55 |
| EA Racing Pack | R$ 185,13 | R$ 219,85 |
| EA SPORTS™ FIFA 21 | R$ 0,00 | R$ 0,00 |
| eFootball PES 2021 | R$ 0,00 | R$ 0,00 |
| ELEX | R$ 14,49 | R$ 18,19 |
| Endless Space® 2 – Standard Edition | R$ 19,99 | R$ 15,99 |
| Enter the Gungeon | R$ 11,19 | R$ 13,99 |
| Euro Truck Simulator | R$ 2,43 | R$ 2,09 |
| Euro Truck Simulator 2 | R$ 12,49 | R$ 9,99 |
| Euro Truck Simulator 2 Map Booster | R$ 63,72 | R$ 63,72 |
| Europa Universalis IV | R$ 23,74 | R$ 17,49 |
| Exiled Kingdoms | R$ 11,61 | R$ 0,00 |
| F.E.A.R. 2: Project Origin | R$ 6,24 | R$ 6,24 |
| F1 2015 | R$ 0,00 | R$ 0,00 |
| F1 2016 | R$ 0,00 | R$ 0,00 |
| F1 2018 | R$ 0,00 | R$ 0,00 |
| F1 2019 | R$ 0,00 | R$ 0,00 |
| F1 2020 | R$ 0,00 | R$ 0,00 |
| F1 2021 | R$ 0,00 | R$ 82,17 |
| F1 RACE STARS | R$ 0,00 | R$ 6,99 |
| F1™ 2017 | R$ 0,00 | R$ 0,00 |
| Fable The Lost Chapters | R$ 0,00 | R$ 4,24 |
| Fall Guys | R$ 0,00 | R$ 0,00 |
| Fallout 3 Game of the Year Edition | R$ 13,19 | R$ 15,99 |
| Fallout 4 | R$ 23,99 | R$ 23,99 |
| Fallout 4: Game of the Year Edition | R$ 23,99 | R$ 39,59 |
| Fallout 76 | R$ 38,75 | R$ 38,75 |
| Fallout New Vegas Ultimate | R$ 15,99 | R$ 15,99 |
| Far Cry | R$ 8,99 | R$ 8,99 |
| Far Cry 2 | R$ 8,99 | R$ 8,99 |
| Far Cry 3 | R$ 17,99 | R$ 17,99 |
| Far Cry 3 – Blood Dragon | R$ 13,49 | R$ 13,49 |
| Far Cry 4 | R$ 26,99 | R$ 26,99 |
| Far Cry 5 – Standard Edition | R$ 35,99 | R$ 35,99 |
| Far Cry New Dawn | R$ 29,99 | R$ 29,99 |
| Far Cry Primal Standard Edition | R$ 22,49 | R$ 22,49 |
| Farm Together | R$ 20,89 | R$ 20,89 |
| Farming Simulator 15 | R$ 17,47 | R$ 0,00 |
| Farming Simulator 17 | R$ 26,59 | R$ 0,00 |
| Farming Simulator 19 | R$ 52,42 | R$ 0,00 |
| Farming Simulator 22 | R$ 0,00 | R$ 0,00 |
| FAST & FURIOUS CROSSROADS | R$ 0,00 | R$ 71,96 |
| Fe | R$ 14,75 | R$ 14,75 |
| FEAR 3 | R$ 8,74 | R$ 8,74 |
| FIFA 22 | R$ 39,84 | R$ 99,60 |
| FINAL FANTASY XV EPISODE ARDYN | R$ 72,49 | R$ 0,00 |
| FINAL FANTASY XV WINDOWS EDITION | R$ 62,50 | R$ 0,00 |
| Finding Paradise | R$ 5,99 | R$ 6,79 |
| Firefighting Simulator – The Squad | R$ 47,59 | R$ 47,59 |
| FlatOut | R$ 1,94 | R$ 2,59 |
| FlatOut 2™ | R$ 3,39 | R$ 4,24 |
| FlowScape | R$ 7,24 | R$ 0,00 |
| For Honor – Starter Edition | R$ 17,99 | R$ 11,24 |
| Force of Nature | R$ 1,65 | R$ 1,65 |
| Forza Horizon 4 | R$ 82,17 | R$ 82,17 |
| Forza Horizon 5 – Standard Edition | R$ 199,20 | R$ 224,10 |
| Foxhole | R$ 43,49 | R$ 43,49 |
| Fran Bow | R$ 6,99 | R$ 6,99 |
| Friday the 13th: The Game | R$ 7,24 | R$ 7,24 |
| Frostpunk | R$ 14,49 | R$ 14,49 |
| FTL: Faster Than Light | R$ 4,24 | R$ 4,24 |
| Gang Beasts | R$ 18,49 | R$ 16,64 |
| Garry's Mod | R$ 10,39 | R$ 17,41 |
| Gas Station Simulator | R$ 29,63 | R$ 30,39 |
| Gauntlet™ Slayer Edition | R$ 9,24 | R$ 9,24 |
| Gears 5 | R$ 65,67 | R$ 79,60 |
| Gears Tactics | R$ 65,67 | R$ 79,60 |
| Getting Over It with Bennett Foddy | R$ 4,97 | R$ 11,61 |
| Ghostrunner | R$ 39,60 | R$ 39,60 |
| Goat Simulator | R$ 5,17 | R$ 0,00 |
| God of War | R$ 159,92 | R$ 0,00 |
| Grand Theft Auto 3 | R$ 0,00 | R$ 0,00 |
| Grand Theft Auto IV: Complete Edition | R$ 23,70 | R$ 23,70 |
| Grand Theft Auto IV: The Complete Edition | R$ 23,70 | R$ 23,70 |
| Grand Theft Auto V: Premium Online Edition | R$ 32,33 | R$ 32,89 |
| Grand Theft Auto: Episodes from Liberty City | R$ 0,00 | R$ 0,00 |
| Grand Theft Auto: San Andreas | R$ 0,00 | R$ 0,00 |
| Grand Theft Auto: The Trilogy | R$ 0,00 | R$ 0,00 |
| Grand Theft Auto: Vice City | R$ 0,00 | R$ 0,00 |
| Graveyard Keeper | R$ 18,99 | R$ 18,99 |
| GreedFall | R$ 47,60 | R$ 47,60 |
| Green Hell | R$ 33,24 | R$ 33,24 |
| GRID | R$ 11,87 | R$ 0,00 |
| Grim Dawn | R$ 9,49 | R$ 9,19 |
| GRIS | R$ 8,24 | R$ 9,89 |
| Guacamelee! 2 | R$ 11,39 | R$ 9,49 |
| GUILTY GEAR -STRIVE- | R$ 77,99 | R$ 77,99 |
| Gun Metal | R$ 1,29 | R$ 1,29 |
| Hades | R$ 28,49 | R$ 30,86 |
| Half-Life | R$ 4,13 | R$ 4,13 |
| Half-Life 1 Anthology | R$ 5,84 | R$ 5,84 |
| Half-Life 1: Source | R$ 4,13 | R$ 4,13 |
| Half-Life 2 | R$ 4,13 | R$ 4,13 |
| Half-Life 2: Episode One | R$ 3,31 | R$ 3,31 |
| Half-Life 2: Episode Two | R$ 3,31 | R$ 3,31 |
| Half-Life Complete | R$ 15,32 | R$ 15,32 |
| Half-Life: Alyx | R$ 54,99 | R$ 54,99 |
| Halo Wars: Definitive Edition | R$ 9,98 | R$ 9,98 |
| Halo: Spartan Assault | R$ 1,57 | R$ 1,57 |
| Halo: The Master Chief Collection | R$ 51,60 | R$ 51,60 |
| Hand Of Fate | R$ 7,39 | R$ 0,00 |
| Hand of Fate 2 | R$ 14,49 | R$ 0,00 |
| Hand Simulator | R$ 2,14 | R$ 0,00 |
| Hand Simulator: Survival | R$ 1,14 | R$ 0,00 |
| Harvest Life | R$ 4,34 | R$ 0,00 |
| Hatred | R$ 6,19 | R$ 4,95 |
| Hell Let Loose | R$ 73,03 | R$ 73,03 |
| Hellblade: Senua's Sacrifice | R$ 13,99 | R$ 13,99 |
| Hellpoint | R$ 26,39 | R$ 27,71 |
| HER STORY | R$ 5,17 | R$ 10,34 |
| Hero Siege | R$ 1,49 | R$ 1,49 |
| Hitman Absolution | R$ 7,39 | R$ 11,09 |
| Hitman Collection | R$ 16,63 | R$ 22,00 |
| Hitman Contracts | R$ 4,55 | R$ 6,83 |
| Hitman GO | R$ 3,19 | R$ 3,19 |
| Hitman: Blood Money | R$ 4,97 | R$ 4,97 |
| Hitman: Codename 47 | R$ 4,13 | R$ 4,13 |
| HITMAN™ – Game of The Year Edition | R$ 23,11 | R$ 41,75 |
| HITMAN™ 2 – Standard Edition | R$ 44,95 | R$ 67,45 |
| HITMAN™ Essential Collection | R$ 28,86 | R$ 47,76 |
| Hollow Knight | R$ 13,99 | R$ 13,99 |
| Horizon Chase Turbo | R$ 12,49 | R$ 12,49 |
| Horizon Zero Dawn™ Complete Edition | R$ 99,95 | R$ 100,00 |
| HOT WHEELS UNLEASHED™ | R$ 54,99 | R$ 76,99 |
| Hotline Miami | R$ 3,39 | R$ 3,39 |
| House Flipper | R$ 23,74 | R$ 20,89 |
| How to Survive 2 | R$ 5,59 | R$ 5,59 |
| Human: Fall Flat | R$ 11,39 | R$ 12,91 |
| Hunt: Showdown | R$ 44,50 | R$ 44,50 |
| Injustice: Gods Among Us Ultimate Edition | R$ 12,49 | R$ 12,49 |
| Injustice™ 2 | R$ 19,48 | R$ 19,48 |
| INSIDE | R$ 11,49 | R$ 11,49 |
| INSOMNIA: The Ark | R$ 23,19 | R$ 23,19 |
| Insurgency | R$ 14,49 | R$ 14,49 |
| Insurgency: Sandstorm | R$ 49,95 | R$ 39,95 |
| Into the Breach | R$ 19,42 | R$ 14,49 |
| It Takes Two | R$ 79,60 | R$ 99,50 |
| Jotun: Valhalla Edition | R$ 5,79 | R$ 7,24 |
| Journey | R$ 14,49 | R$ 14,49 |
| Journey of a Roach | R$ 1,44 | R$ 1,44 |
| Journey To The Savage Planet | R$ 39,60 | R$ 39,60 |
| JUMP FORCE | R$ 0,00 | R$ 19,99 |
| Jurassic World Evolution | R$ 19,99 | R$ 15,99 |
| Just Cause | R$ 1,81 | R$ 1,81 |
| Just Cause 2 | R$ 2,69 | R$ 2,69 |
| Just Cause 3 | R$ 6,44 | R$ 6,44 |
| Just Cause 3 XXL Edition | R$ 9,24 | R$ 9,58 |
| Just Cause 4 Complete Edition | R$ 44,98 | R$ 44,98 |
| Just Cause 4 Reloaded Edition | R$ 30,02 | R$ 30,02 |
| Kane and Lynch 2 – Dog Days | R$ 1,69 | R$ 1,69 |
| Katana ZERO | R$ 17,39 | R$ 17,39 |
| Kerbal Space Program | R$ 18,24 | R$ 18,24 |
| Killer Instinct | R$ 18,24 | R$ 18,24 |
| Killing Floor | R$ 6,24 | R$ 6,24 |
| Killing Floor 2 | R$ 13,99 | R$ 13,99 |
| Kingdom Come: Deliverance | R$ 17,39 | R$ 17,39 |
| Knights of Pen and Paper +1 | R$ 4,24 | R$ 4,24 |
| Knights of Pen and Paper 2 | R$ 3,99 | R$ 3,99 |
| Knockout City™ | R$ 0,00 | R$ 44,55 |
| L.A. Noire Complete Edition | R$ 29,85 | R$ 34,82 |
| Lara Croft GO | R$ 3,99 | R$ 3,99 |
| Last Day of June | R$ 0,00 | R$ 9,24 |
| Layers of Fear | R$ 0,00 | R$ 7,39 |
| Layers of Fear 2 | R$ 0,00 | R$ 18,99 |
| Left 4 Dead | R$ 4,13 | R$ 4,13 |
| Left 4 Dead 2 | R$ 4,13 | R$ 4,13 |
| Left 4 Dead Bundle | R$ 6,20 | R$ 6,20 |
| LEGO – The Hobbit | R$ 9,24 | R$ 9,24 |
| LEGO Batman | R$ 9,09 | R$ 9,24 |
| LEGO Batman Trilogy | R$ 9,09 | R$ 18,19 |
| LEGO Lord of the Rings | R$ 9,24 | R$ 9,24 |
| LEGO Marvel's Avengers | R$ 12,49 | R$ 12,49 |
| LEGO Star Wars: The Complete Saga | R$ 9,24 | R$ 9,24 |
| LEGO The Incredibles | R$ 14,99 | R$ 14,99 |
| Life is Strange 2 Complete Season | R$ 38,40 | R$ 38,40 |
| Life is Strange Complete Season (Episodes 1-5) | R$ 0,00 | R$ 0,00 |
| Life is Strange: Before the Storm | R$ 0,00 | R$ 0,00 |
| Life is Strange: True Colors | R$ 149,95 | R$ 179,94 |
| LIMBO | R$ 5,24 | R$ 5,24 |
| Little Nightmares | R$ 19,99 | R$ 19,99 |
| Little Nightmares II | R$ 79,74 | R$ 106,85 |
| Lords of the Fallen Game of the Year Edition | R$ 8,39 | R$ 8,39 |
| Lucius | R$ 2,99 | R$ 2,99 |
| Lucius II | R$ 5,54 | R$ 5,54 |
| Lucius III | R$ 5,54 | R$ 5,54 |
| Mad Max | R$ 12,49 | R$ 12,49 |
| Mafia | R$ 8,21 | R$ 8,21 |
| Mafia II: Definitive Edition | R$ 56,09 | R$ 56,09 |
| Mafia III: Definitive Edition | R$ 56,09 | R$ 56,09 |
| Mafia: Definitive Edition | R$ 91,96 | R$ 114,95 |
| MagiCat | R$ 2,72 | R$ 2,72 |
| Magicka | R$ 4,24 | R$ 4,24 |
| Magicka 2 | R$ 6,99 | R$ 6,99 |
| Maneater | R$ 37,74 | R$ 45,29 |
| Mars Horizon | R$ 18,99 | R$ 22,79 |
| Marvel vs. Capcom: Infinite | R$ 17,99 | R$ 22,49 |
| Marvel's Avengers | R$ 53,59 | R$ 53,59 |
| Marvel's Guardians of the Galaxy | R$ 149,95 | R$ 194,93 |
| Mass Effect™ 3 N7 Digital Deluxe Edition | R$ 0,00 | R$ 0,00 |
| Mass Effect™ Legendary Edition | R$ 102,09 | R$ 149,50 |
| Mass Effect™: Andromeda Deluxe Edition | R$ 22,25 | R$ 22,25 |
| Max Payne | R$ 0,00 | R$ 0,00 |
| Max Payne 2 | R$ 0,00 | R$ 0,00 |
| Max Payne 3 | R$ 29,85 | R$ 34,82 |
| Medal of Honor | R$ 14,75 | R$ 14,75 |
| Men of War | R$ 2,09 | R$ 2,09 |
| Men of War: Assault Squad | R$ 3,99 | R$ 3,99 |
| Metal Gear Rising | R$ 12,49 | R$ 12,49 |
| METAL GEAR SOLID V: The Definitive Experience | R$ 24,75 | R$ 24,75 |
| Metro 2033 Redux | R$ 9,24 | R$ 9,24 |
| Metro Exodus | R$ 18,48 | R$ 22,40 |
| Metro Last Light Redux | R$ 9,24 | R$ 9,24 |
| Microsoft Flight Simulator | R$ 199,96 | R$ 199,96 |
| Middle-earth: Shadow of Mordor | R$ 12,49 | R$ 12,49 |
| Middle-earth: Shadow of War | R$ 17,99 | R$ 23,99 |
| Middle-earth: Shadow of War Definitive Edition | R$ 17,99 | R$ 22,49 |
| Minecraft Dungeons | R$ 0,00 | R$ 0,00 |
| Mirror's Edge Catalyst | R$ 20,65 | R$ 14,75 |
| Mirror's Edge™ | R$ 14,75 | R$ 14,75 |
| Miscreated | R$ 0,00 | R$ 0,00 |
| MONSTER HUNTER RISE | R$ 91,79 | R$ 0,00 |
| Monster Hunter: World | R$ 34,99 | R$ 0,00 |
| Monster Prom | R$ 7,71 | R$ 7,71 |
| Moon Hunters | R$ 2,89 | R$ 2,89 |
| Moonlighter | R$ 9,11 | R$ 9,49 |
| Moons of Madness | R$ 24,99 | R$ 24,99 |
| Mortal Kombat 11 | R$ 31,99 | R$ 31,99 |
| Mortal Kombat 11 Ultimate | R$ 62,49 | R$ 74,99 |
| Mortal Kombat X | R$ 14,97 | R$ 14,97 |
| Mortal Kombat XL | R$ 14,99 | R$ 14,99 |
| Mortal Shell | R$ 25,64 | R$ 31,34 |
| MotoGP™14 | R$ 2,19 | R$ 3,10 |
| MotoGP™15: Game | R$ 3,29 | R$ 4,34 |
| MotoGP™18 | R$ 6,59 | R$ 9,49 |
| MotoGP™19 | R$ 10,99 | R$ 11,59 |
| MotoGP™20 | R$ 13,19 | R$ 18,87 |
| Motorsport Manager | R$ 12,79 | R$ 15,99 |
| Mount & Blade II: Bannerlord | R$ 119,99 | R$ 134,99 |
| Mount and Blade: Warband | R$ 7,49 | R$ 7,49 |
| Mount Your Friends | R$ 3,67 | R$ 3,67 |
| Moving Out | R$ 14,97 | R$ 14,97 |
| MudRunner | R$ 10,98 | R$ 10,98 |
| Muse Dash | R$ 1,98 | R$ 3,14 |
| My Friend Pedro | R$ 15,19 | R$ 18,99 |
| My Time At Portia | R$ 19,97 | R$ 19,97 |
| NARAKA: BLADEPOINT | R$ 56,00 | R$ 0,00 |
| NARUTO SHIPPUDEN: Ultimate Ninja STORM 2 | R$ 19,97 | R$ 23,97 |
| Naruto Shippuden: Ultimate Ninja Storm 3 | R$ 19,97 | R$ 23,97 |
| NARUTO SHIPPUDEN: Ultimate Ninja STORM 4 | R$ 22,31 | R$ 22,31 |
| NARUTO SHIPPUDEN: Ultimate Ninja STORM | R$ 8,39 | R$ 11,19 |
| NARUTO TO BORUTO: SHINOBI STRIKER | R$ 13,99 | R$ 13,99 |
| NBA 2K21 | R$ 0,00 | R$ 0,00 |
| Need for Speed Deluxe Edition | R$ 22,25 | R$ 22,25 |
| Need for Speed Heat Deluxe Edition | R$ 55,80 | R$ 55,80 |
| Need for Speed Rivals | R$ 14,75 | R$ 14,75 |
| Need for Speed Undercover | R$ 0,00 | R$ 0,00 |
| Need For Speed: Hot Pursuit | R$ 0,00 | R$ 0,00 |
| Need for Speed: SHIFT | R$ 0,00 | R$ 0,00 |
| Need for Speed™ Heat | R$ 55,80 | R$ 55,80 |
| Need for Speed™ Hot Pursuit Remastered | R$ 29,80 | R$ 37,25 |
| Need for Speed™ Most Wanted | R$ 14,75 | R$ 14,75 |
| Need for Speed™ Payback | R$ 26,70 | R$ 26,70 |
| Neon Abyss | R$ 29,99 | R$ 29,99 |
| Neverwinter Nights | R$ 7,59 | R$ 11,39 |
| New World Standard Edition | R$ 45,29 | R$ 56,61 |
| Next Day: Survival | R$ 0,00 | R$ 0,00 |
| NieR Replicant ver.1.22474487139 | R$ 124,95 | R$ 0,00 |
| NieR:Automata™ | R$ 0,00 | R$ 0,00 |
| Niffelheim | R$ 9,24 | R$ 9,24 |
| Nine Parchments | R$ 9,49 | R$ 9,49 |
| Nioh 2 – The Complete Edition | R$ 0,00 | R$ 0,00 |
| Nioh: Complete Edition | R$ 0,00 | R$ 0,00 |
| No Man's Sky | R$ 64,99 | R$ 64,99 |
| Northgard | R$ 23,19 | R$ 14,49 |
| NukGames Pack | R$ 1,08 | R$ 1,14 |
| Observer: System Redux – Deluxe Edition | R$ 34,79 | R$ 37,69 |
| OmniBus: Game of the Year Edition | R$ 2,72 | R$ 2,17 |
| One Finger Death Punch | R$ 1,69 | R$ 1,69 |
| ONE PUNCH MAN: A HERO NOBODY KNOWS | R$ 23,98 | R$ 25,58 |
| Operation Tango | R$ 41,71 | R$ 49,30 |
| Ori and the Blind Forest: Definitive Edition | R$ 0,00 | R$ 0,00 |
| Ori and the Will of the Wisps | R$ 42,57 | R$ 42,57 |
| Original War | R$ 1,69 | R$ 1,69 |
| Osiris | R$ 32,99 | R$ 22,99 |
| Outlast | R$ 5,69 | R$ 5,69 |
| Outlast 2 | R$ 8,59 | R$ 8,59 |
| Outlast Trinity | R$ 13,72 | R$ 13,72 |
| Outriders | R$ 104,44 | R$ 92,36 |
| Overcooked | R$ 7,79 | R$ 7,79 |
| Overcooked! 2 | R$ 14,97 | R$ 14,97 |
| Overcooked! All You Can Eat | R$ 60,00 | R$ 60,00 |
| Overlord™ | R$ 2,12 | R$ 2,12 |
| OVIVO | R$ 1,63 | R$ 1,19 |
| Pacify | R$ 7,62 | R$ 7,62 |
| Papers, Please | R$ 8,49 | R$ 0,00 |
| PAYDAY 2 | R$ 2,39 | R$ 11,99 |
| PAYDAY 2: Legacy Collection | R$ 29,30 | R$ 31,70 |
| PC Building Simulator | R$ 11,39 | R$ 15,19 |
| Penumbra Collectors Pack | R$ 2,99 | R$ 1,99 |
| Phantom Abyss | R$ 48,71 | R$ 48,71 |
| Phantom Doctrine | R$ 7,54 | R$ 7,54 |
| Phasmophobia | R$ 22,31 | R$ 25,10 |
| Phoning Home | R$ 2,99 | R$ 1,99 |
| Pillars of Eternity – Definitive Edition | R$ 13,99 | R$ 18,24 |
| Plague Inc: Evolved | R$ 9,51 | R$ 9,51 |
| PLANET ALPHA | R$ 7,59 | R$ 9,49 |
| Planet coaster | R$ 20,49 | R$ 16,39 |
| Planet Zoo | R$ 30,00 | R$ 25,00 |
| Plants vs. Zombies GOTY Edition | R$ 3,96 | R$ 3,96 |
| Plants vs. Zombies: Battle for Neighborville | R$ 69,65 | R$ 39,80 |
| PLAYERUNKNOWN'S BATTLEGROUNDS | R$ 0,00 | R$ 0,00 |
| Portal | R$ 4,13 | R$ 4,13 |
| Portal 2 | R$ 4,13 | R$ 4,13 |
| Portal Bundle | R$ 6,20 | R$ 6,20 |
| Portal Knights | R$ 12,94 | R$ 14,79 |
| Post Scriptum | R$ 29,45 | R$ 44,17 |
| POSTAL 2 | R$ 1,99 | R$ 1,99 |
| POSTAL Redux | R$ 2,15 | R$ 2,15 |
| Press X to Not Die | R$ 1,57 | R$ 1,57 |
| Prey | R$ 22,49 | R$ 22,49 |
| Prison Architect | R$ 14,49 | R$ 14,49 |
| Project CARS | R$ 11,39 | R$ 11,39 |
| Project CARS 2 | R$ 23,85 | R$ 23,85 |
| Project CARS 3 | R$ 0,00 | R$ 59,97 |
| Project Highrise | R$ 7,39 | R$ 12,57 |
| Project Hospital | R$ 23,74 | R$ 28,49 |
| Project Winter | R$ 17,09 | R$ 0,00 |
| Quantum Break | R$ 18,24 | R$ 18,24 |
| RACCOON CITY EDITION | R$ 69,99 | R$ 57,74 |
| RAD | R$ 24,97 | R$ 24,97 |
| Raft | R$ 31,44 | R$ 24,78 |
| RAGE 2 | R$ 29,99 | R$ 35,99 |
| Railway Empire | R$ 41,70 | R$ 45,87 |
| Raji: An Ancient Epic | R$ 16,99 | R$ 24,99 |
| Red Dead Redemption 2 | R$ 119,50 | R$ 119,50 |
| Refunct | R$ 1,62 | R$ 1,62 |
| Remnant: From the Ashes | R$ 30,19 | R$ 30,19 |
| RER2/BHR2 Episode One: Penal Colony | R$ 1,68 | R$ 1,68 |
| Resident Evil / biohazard HD REMASTER | R$ 9,99 | R$ 9,99 |
| Resident Evil 0 / biohazard 0 HD Remaster | R$ 9,99 | R$ 9,99 |
| RESIDENT EVIL 2 | R$ 35,99 | R$ 35,99 |
| Resident Evil 3 | R$ 51,99 | R$ 38,99 |
| resident evil 4 | R$ 9,99 | R$ 9,99 |
| Resident Evil 5 | R$ 9,99 | R$ 9,99 |
| Resident Evil 6 Complete | R$ 16,99 | R$ 16,99 |
| RESIDENT EVIL 7 | R$ 34,99 | R$ 23,09 |
| Resident Evil Village | R$ 89,99 | R$ 89,99 |
| Retro Machina | R$ 9,99 | R$ 11,99 |
| Ride 2 | R$ 5,79 | R$ 11,59 |
| Ride 3 | R$ 11,32 | R$ 15,09 |
| RIDE 4 | R$ 23,49 | R$ 37,59 |
| RIDE: Game | R$ 3,79 | R$ 3,79 |
| RiME | R$ 0,00 | R$ 0,00 |
| Rise of Insanity | R$ 5,17 | R$ 0,00 |
| Rise of the Tomb Raider: 20 Year Celebration | R$ 17,00 | R$ 17,00 |
| Risk of Rain | R$ 4,99 | R$ 4,99 |
| Risk of Rain 2 | R$ 29,99 | R$ 35,99 |
| Road 96 | R$ 24,98 | R$ 39,96 |
| Road Redemption | R$ 11,09 | R$ 12,94 |
| Rock 'N' Roll Defense | R$ 1,08 | R$ 1,14 |
| Rocksmith® 2014 Edition – Remastered | R$ 44,99 | R$ 26,99 |
| Rust | R$ 51,74 | R$ 62,63 |
| Ryse: Son of Rome | R$ 5,17 | R$ 5,17 |
| Saints Row 2 (ROW) | R$ 4,99 | R$ 4,99 |
| Saints Row IV: Game of the Century Edition | R$ 9,24 | R$ 9,24 |
| Saints Row The Third Remastered | R$ 26,24 | R$ 37,49 |
| Saints Row: Gat out of Hell | R$ 6,99 | R$ 6,99 |
| Saints Row: The Third – The Full Package | R$ 13,99 | R$ 13,99 |
| Sally Face – COMPLETE GAME | R$ 0,00 | R$ 0,00 |
| Sally Face, Episode One: Strange Neighbors | R$ 0,00 | R$ 0,00 |
| Salt and Sanctuary | R$ 8,49 | R$ 8,49 |
| Save Jesus | R$ 1,20 | R$ 1,14 |
| Sayonara Wild Hearts | R$ 16,13 | R$ 16,13 |
| SCUM | R$ 39,59 | R$ 39,59 |
| Sea of Solitude | R$ 14,75 | R$ 14,75 |
| Sea of Thieves | R$ 0,00 | R$ 60,29 |
| Seen | R$ 1,08 | R$ 1,14 |
| Sekiro: Shadows Die Twice | R$ 99,95 | R$ 99,95 |
| Serious Sam 4 | R$ 30,19 | R$ 30,19 |
| Session | R$ 37,49 | R$ 35,61 |
| Shadow of the Tomb Raider: Definitive Edition | R$ 47,86 | R$ 47,86 |
| Shadow Tactics: Blades of the Shogun | R$ 7,99 | R$ 7,99 |
| Shadow Tactics: Blades of the Shogun – Aiko's Choice | R$ 15,99 | R$ 33,99 |
| Shadow Warrior 2 | R$ 10,94 | R$ 7,59 |
| Shenmue 3 | R$ 14,49 | R$ 14,49 |
| Shenmue I & II | R$ 27,49 | R$ 27,49 |
| Shovel Knight: Specter of Torment | R$ 12,99 | R$ 13,99 |
| Sid Meier's Civilization VI | R$ 19,35 | R$ 19,35 |
| Sid Meier's Civilization: Beyond Earth | R$ 24,75 | R$ 24,75 |
| Sid Meier's Civilization® III Complete | R$ 1,99 | R$ 1,99 |
| SimCity 4 Deluxe | R$ 14,75 | R$ 14,75 |
| Skater XL | R$ 60,39 | R$ 60,39 |
| Slay the Spire | R$ 16,14 | R$ 0,00 |
| Sleeping Dogs: Definitive Edition | R$ 8,39 | R$ 8,39 |
| Slender: The Arrival | R$ 2,06 | R$ 4,13 |
| Snakeybus | R$ 0,00 | R$ 0,00 |
| Sniper Elite | R$ 3,99 | R$ 3,99 |
| Sniper Elite 3 | R$ 8,39 | R$ 11,99 |
| Sniper Elite 4 | R$ 10,59 | R$ 15,89 |
| Sniper Elite Complete Pack | R$ 34,42 | R$ 47,61 |
| Sniper Elite V2 Remastered | R$ 14,48 | R$ 22,43 |
| Sniper Ghost Warrior 3 | R$ 13,99 | R$ 9,99 |
| Sniper Ghost Warrior Contracts 2 | R$ 64,95 | R$ 49,06 |
| Sniper: Ghost Warrior 2 | R$ 3,99 | R$ 3,99 |
| SnowRunner | R$ 65,94 | R$ 71,43 |
| SOLASTA Crown of the Magister | R$ 31,60 | R$ 39,50 |
| SOMA | R$ 8,39 | R$ 5,59 |
| Sonic Generations Collection | R$ 0,00 | R$ 9,24 |
| SOULCALIBUR VI | R$ 23,98 | R$ 31,98 |
| South Park: The Fractured But Whole | R$ 22,49 | R$ 37,49 |
| South Park™: The Stick of Truth™ | R$ 22,49 | R$ 22,49 |
| SpellForce 3 | R$ 18,87 | R$ 18,87 |
| Sphere Game | R$ 1,14 | R$ 1,16 |
| SPORE™ | R$ 14,75 | R$ 14,75 |
| Spyro Reignited Trilogy | R$ 52,50 | R$ 52,50 |
| Squad | R$ 62,97 | R$ 70,49 |
| STAR WARS Jedi: Fallen Order | R$ 49,75 | R$ 73,63 |
| STAR WARS™ Battlefront™ II: Celebration Edition | R$ 63,60 | R$ 31,80 |
| STAR WARS™ Battlefront™ Ultimate Edition | R$ 29,50 | R$ 11,80 |
| STAR WARS™ Complete Collection | R$ 152,22 | R$ 152,22 |
| STAR WARS™: Squadrons | R$ 49,75 | R$ 59,70 |
| Stardew Valley | R$ 14,99 | R$ 19,99 |
| Startup Company | R$ 13,44 | R$ 12,10 |
| State of Decay 2: Juggernaut Edition | R$ 39,99 | R$ 47,99 |
| State of Decay: Year One Survival Edition | R$ 0,00 | R$ 18,99 |
| Steep | R$ 17,99 | R$ 17,99 |
| Stellaris | R$ 23,74 | R$ 18,24 |
| Stories Untold | R$ 3,99 | R$ 4,99 |
| Stranded Deep | R$ 0,00 | R$ 0,00 |
| Strange Brigade | R$ 9,39 | R$ 9,39 |
| Street Fighter V | R$ 9,99 | R$ 15,99 |
| Streets of Rage 4 | R$ 46,22 | R$ 55,47 |
| Stronghold Crusader HD | R$ 3,39 | R$ 3,39 |
| Subnautica | R$ 28,99 | R$ 28,99 |
| Subnautica: Below Zero | R$ 28,99 | R$ 37,69 |
| Sunset Overdrive | R$ 9,73 | R$ 9,73 |
| Super Bomberman R | R$ 30,00 | R$ 30,00 |
| Super Time Force Ultra | R$ 5,59 | R$ 0,00 |
| Superflight | R$ 0,00 | R$ 1,62 |
| Supreme Commander | R$ 3,39 | R$ 3,39 |
| Supreme Commander 2 | R$ 4,24 | R$ 4,24 |
| Surviving Mars | R$ 14,49 | R$ 14,49 |
| Swords of Legends Online | R$ 0,00 | R$ 0,00 |
| Tainted Grail: Conquest | R$ 24,69 | R$ 26,59 |
| Tales of Berseria | R$ 19,49 | R$ 19,49 |
| Tales of Zestiria | R$ 13,64 | R$ 13,64 |
| Teardown | R$ 30,39 | R$ 0,00 |
| Teddy Floppy Ear – Kayaking | R$ 1,15 | R$ 1,15 |
| Teddy Floppy Ear – The Race | R$ 1,15 | R$ 1,15 |
| TEKKEN 7 | R$ 19,48 | R$ 25,98 |
| Temtem | R$ 0,00 | R$ 0,00 |
| Terminator: Resistance | R$ 75,00 | R$ 75,00 |
| Terraria | R$ 9,99 | R$ 9,99 |
| Teslagrad | R$ 3,99 | R$ 3,99 |
| The Binding of Isaac | R$ 4,24 | R$ 0,00 |
| The Council | R$ 16,17 | R$ 21,56 |
| The Crew 2 – Standard Edition | R$ 29,99 | R$ 29,99 |
| The Crew™ | R$ 22,49 | R$ 22,49 |
| The Dark Pictures Anthology: Man of Medan | R$ 42,86 | R$ 51,96 |
| The Deus Ex Collection | R$ 20,01 | R$ 20,01 |
| The Elder Scrolls III: Morrowind® | R$ 9,89 | R$ 9,89 |
| The Elder Scrolls IV: Oblivion® | R$ 9,89 | R$ 9,89 |
| The Elder Scrolls Online Standard Edition | R$ 18,45 | R$ 18,45 |
| The Elder Scrolls V: Skyrim Special Edition | R$ 49,17 | R$ 59,60 |
| The Elder Scrolls V: Skyrim VR | R$ 65,99 | R$ 65,99 |
| The Escapists | R$ 11,49 | R$ 11,87 |
| The Escapists 2 | R$ 14,99 | R$ 14,99 |
| The Evil Within | R$ 11,99 | R$ 12,49 |
| The Evil Within 2 | R$ 31,00 | R$ 31,00 |
| The Evil Within Bundle | R$ 17,99 | R$ 17,99 |
| The Forest | R$ 9,49 | R$ 13,29 |
| The Incredible Adventures of Van Helsing | R$ 2,79 | R$ 2,79 |
| The Incredible Adventures of Van Helsing – Complete | R$ 3,69 | R$ 3,69 |
| The Incredible Adventures of Van Helsing Anthology | R$ 12,69 | R$ 12,69 |
| The Long Dark | R$ 16,49 | R$ 22,43 |
| The Medium | R$ 103,93 | R$ 103,93 |
| The Messenger | R$ 15,19 | R$ 18,99 |
| The Orange Box | R$ 7,59 | R$ 37,99 |
| The Outer Worlds | R$ 74,97 | R$ 82,46 |
| The Room | R$ 2,62 | R$ 0,00 |
| The Room Two | R$ 2,62 | R$ 0,00 |
| The Silent Age | R$ 3,99 | R$ 3,99 |
| The Sims™ 4 | R$ 22,25 | R$ 19,08 |
| The Surge | R$ 13,47 | R$ 13,47 |
| The Surge 2 | R$ 27,47 | R$ 27,47 |
| The Survivalists | R$ 14,97 | R$ 14,97 |
| The Vagrant | R$ 1,73 | R$ 2,80 |
| The Walking Dead | R$ 11,59 | R$ 11,59 |
| The Walking Dead: A New Frontier | R$ 11,59 | R$ 11,59 |
| The Witcher 2 | R$ 5,54 | R$ 5,54 |
| The Witcher 3: Wild Hunt | R$ 15,99 | R$ 15,99 |
| The Witcher 3: Wild Hunt | R$ 19,99 | R$ 19,99 |
| The Witcher Adventure Game | R$ 2,99 | R$ 2,99 |
| The Witcher: Enhanced Edition Director's Cut | R$ 2,54 | R$ 2,54 |
| theHunter: Call of the Wild™ | R$ 9,11 | R$ 11,39 |
| They Are Billions | R$ 44,24 | R$ 47,19 |
| Thief | R$ 8,39 | R$ 8,39 |
| Thief Gold | R$ 1,81 | R$ 1,81 |
| Thief II: The Metal Age | R$ 1,81 | R$ 1,81 |
| Thief Simulator | R$ 10,63 | R$ 11,39 |
| This War of Mine | R$ 7,39 | R$ 9,24 |
| Thronebreaker: The Witcher Tales | R$ 16,79 | R$ 16,79 |
| Titan Souls | R$ 2,49 | R$ 4,99 |
| Titanfall® 2: Ultimate Edition | R$ 14,24 | R$ 22,25 |
| To The Moon | R$ 3,39 | R$ 5,77 |
| Tom Clancy's The Division™ | R$ 22,49 | R$ 29,69 |
| Tom Clancy's Ghost Recon Wildlands | R$ 29,99 | R$ 29,99 |
| Tom Clancy's Rainbow Six Siege | R$ 23,99 | R$ 23,99 |
| Tomb Raider GOTY Edition | R$ 6,64 | R$ 8,44 |
| Tomb Raider I | R$ 1,81 | R$ 1,81 |
| Tomb Raider II | R$ 1,81 | R$ 1,81 |
| Tomb Raider III | R$ 1,81 | R$ 1,81 |
| Tomb Raider IV: The Last Revelation | R$ 1,81 | R$ 1,81 |
| Tomb Raider V: Chronicles | R$ 1,81 | R$ 1,81 |
| Tomb Raider VI: Angel of Darkness | R$ 1,81 | R$ 1,81 |
| Tomb Raider: Anniversary | R$ 1,86 | R$ 1,86 |
| Tomb Raider: Legend | R$ 1,81 | R$ 1,81 |
| Tomb Raider: Underworld | R$ 1,86 | R$ 1,86 |
| Torchlight | R$ 12,49 | R$ 12,49 |
| Torchlight II | R$ 17,49 | R$ 17,49 |
| Torchlight III | R$ 20,87 | R$ 20,87 |
| Tormented Souls | R$ 26,59 | R$ 28,49 |
| Total War: ATTILA | R$ 28,24 | R$ 28,24 |
| Total War: Rome II | R$ 37,49 | R$ 37,49 |
| Total War: ROME REMASTERED | R$ 84,08 | R$ 94,12 |
| Total War: THREE KINGDOMS | R$ 74,99 | R$ 74,99 |
| Total War: WARHAMMER | R$ 63,00 | R$ 63,00 |
| Total War: WARHAMMER II | R$ 85,68 | R$ 85,68 |
| Total War™: ROME II – Emperor Edition | R$ 37,49 | R$ 37,49 |
| Train Mechanic Simulator 2017 | R$ 1,65 | R$ 1,65 |
| Transport Fever | R$ 11,59 | R$ 11,59 |
| Transport Fever 2 | R$ 42,49 | R$ 42,49 |
| Trine 4: The Nightmare Prince | R$ 14,49 | R$ 14,49 |
| Tropico 4 | R$ 34,50 | R$ 27,60 |
| Tropico 5 – Steam Special Edition | R$ 44,50 | R$ 35,60 |
| Tropico 6 | R$ 71,60 | R$ 89,50 |
| Turbo Dismount | R$ 1,99 | R$ 3,99 |
| Two Point Hospital | R$ 29,99 | R$ 0,00 |
| UBERMOSH | R$ 1,08 | R$ 1,14 |
| Ultra Street Fighter® IV | R$ 14,99 | R$ 14,99 |
| Undertale | R$ 0,00 | R$ 5,99 |
| Uno | R$ 11,99 | R$ 11,99 |
| Unravel | R$ 14,75 | R$ 14,75 |
| Unravel Two | R$ 14,75 | R$ 14,75 |
| Untitled Goose Game | R$ 18,99 | R$ 18,99 |
| Valheim | R$ 26,59 | R$ 28,49 |
| Valve Complete Pack | R$ 27,46 | R$ 27,46 |
| Vampyr | R$ 29,98 | R$ 37,47 |
| Visage | R$ 39,59 | R$ 49,49 |
| Warhammer 40,000: Dawn of War | R$ 6,49 | R$ 6,49 |
| Warhammer 40,000: Dawn of War III | R$ 14,99 | R$ 24,99 |
| Warhammer 40,000: Mechanicus | R$ 11,80 | R$ 20,06 |
| Warhammer: End Times – Vermintide | R$ 5,59 | R$ 5,59 |
| Warhammer: Vermintide 2 | R$ 14,99 | R$ 14,49 |
| Watch_Dogs | R$ 22,49 | R$ 22,49 |
| Watch_Dogs2 | R$ 29,99 | R$ 29,99 |
| What Remains of Edith Finch | R$ 11,09 | R$ 11,09 |
| WHAT THE GOLF? | R$ 15,19 | R$ 15,19 |
| Windbound | R$ 7,59 | R$ 19,90 |
| Wolcen: Lords of Mayhem | R$ 0,00 | R$ 45,29 |
| Wolfenstein Alt History Collection | R$ 56,85 | R$ 56,85 |
| Wolfenstein II: The New Colossus | R$ 31,00 | R$ 31,00 |
| Wolfenstein: The Old Blood | R$ 14,99 | R$ 14,99 |
| Wolfenstein: Youngblood | R$ 17,99 | R$ 17,99 |
| World War Z: Aftermath | R$ 45,29 | R$ 49,06 |
| Worms | R$ 2,09 | R$ 2,79 |
| Worms Armageddon | R$ 4,19 | R$ 5,59 |
| Worms Blast | R$ 2,39 | R$ 3,99 |
| Worms Clan Wars | R$ 6,74 | R$ 8,99 |
| Worms Collection | R$ 104,07 | R$ 74,68 |
| Worms Crazy Golf | R$ 2,99 | R$ 3,99 |
| Worms Reloaded | R$ 5,54 | R$ 7,39 |
| Worms Revolution | R$ 4,19 | R$ 5,59 |
| Worms Rumble | R$ 3,79 | R$ 9,49 |
| Worms W.M.D | R$ 15,98 | R$ 15,98 |
| Worms World Party | R$ 5,59 | R$ 5,59 |
| Worms™ Ultimate Mayhem | R$ 3,74 | R$ 4,99 |
| Wreckfest | R$ 32,98 | R$ 32,98 |
| WRG GAMES BUNDLE | R$ 2,28 | R$ 1,94 |
| WWE 2K Battlegrounds | R$ 89,59 | R$ 89,59 |
| WWE 2K20 | R$ 0,00 | R$ 29,75 |
| XCOM 2 | R$ 14,98 | R$ 9,99 |
| X-COM: Apocalypse | R$ 1,99 | R$ 1,99 |
| XCOM: Chimera Squad | R$ 24,75 | R$ 34,65 |
| XCOM: Enemy Unknown | R$ 17,49 | R$ 17,49 |
| X-COM: Enforcer | R$ 1,99 | R$ 1,99 |
| X-COM: Interceptor | R$ 1,99 | R$ 1,99 |
| X-COM: Terror From the Deep | R$ 1,99 | R$ 1,99 |
| X-COM: UFO Defense | R$ 1,99 | R$ 1,99 |
| Xuan-Yuan Sword VII | R$ 39,59 | R$ 46,19 |
| Yakuza 0 | R$ 16,99 | R$ 16,99 |
| Yakuza 3 Remastered | R$ 45,92 | R$ 54,27 |
| Yakuza 4 Remastered | R$ 45,92 | R$ 54,27 |
| Yakuza 5 Remastered | R$ 45,92 | R$ 54,27 |
| Yakuza Kiwami | R$ 23,79 | R$ 27,19 |
| Yakuza Remastered Collection | R$ 123,99 | R$ 250,50 |
| Yakuza: Like a Dragon Day Ichi Edition | R$ 112,45 | R$ 137,44 |
| Yooka-Laylee | R$ 12,74 | R$ 16,99 |
| Zombie Army Trilogy | R$ 12,29 | R$ 12,29 |
| Zup! X | R$ 1,83 | R$ 1,71 |
---