Após adicionar mais de 15 jogos durante o mês de Maio, a Microsoft anunciou que vai adicionar novos jogos entre essa e a próxima semana no catálogo do Xbox Game Pass, para os seus assinantes poderem jogar.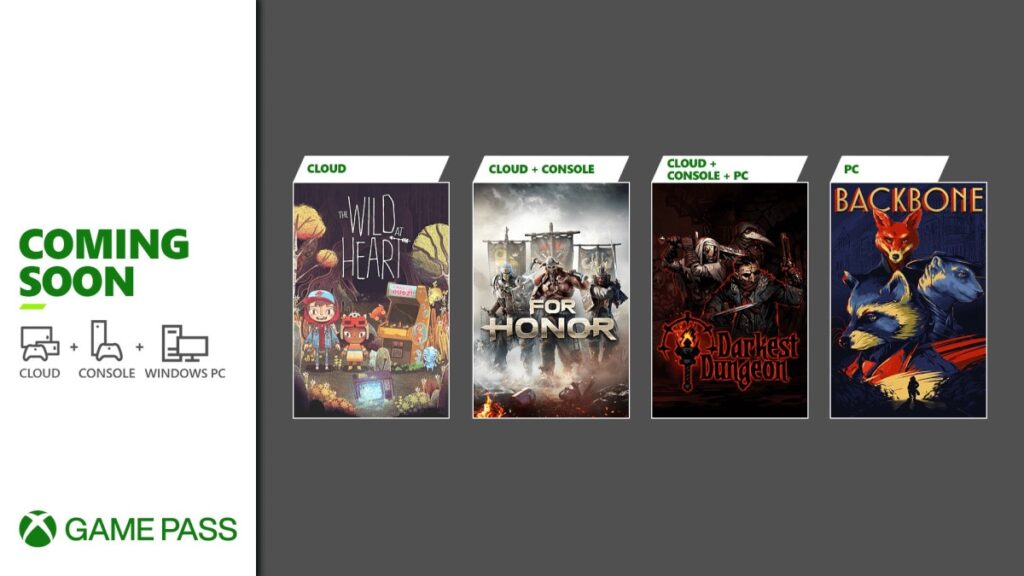 ---
Confira a lista completa dos novos jogos:
The Wild at Heart (Cloud) Disponível hoje, 1º de Junho 2021
For Honor (Cloud e Console) – 3 de Junho
Backbone (PC) – 8 de Junho
Darkest Dungeon (Cloud, Console, e PC) – 10 de Junho
Desses 4 jogos que serão adicionados no Xbox Game Pass, 2 serão adicionados na versão de PC que são Backbone e Darkest Dungeon, For Honor será adicionado nas versões de Cloud e Consoles e o jogo The Wild at Heart é exclusivo no Game Pass de Cloud (em nuvem).
- Continua após a publicidade -
Lembrando que o Xbox Game Pass Ultimate está custando novamente apenas R$5,00 por 3 meses, sendo assim você paga o valor de R$5,00 por 1 mês, e recebe 2 meses de graça para jogar as centenas de jogos disponíveis no catálogo da Microsoft.
ATENÇÃO:
No dia 15 de Junho, a Microsoft vai REMOVER 5 jogos do Xbox Game Pass, que são:
Ace Combat 7: Skies Unknown (Console)
Night Call (Cloud, Console e PC)
West of Dead (Cloud, Console e PC)
Wizard of Legend (Cloud, Console e PC)
Observation (Cloud, Console e PC)
Fonte – Página Oficial do Xbox.