O promissor MMO de sobrevivência The Day Before, cujo é um dos jogos mais desejados na Steam, foi adiado para 1º de Março de 2023; o jogo seria lançado originalmente em 21 de Junho.
Segundo o estúdio responsável pelo jogo, a FNTASTIC, o motivo do adiamento é que The Day Before será transferido para o novo motor gráfico Unreal Engine 5 da Epic Games, no qual os desenvolvedores dizem que a migração requer um tempo extra de trabalho e desta maneira, não será possível realizar o lançamento neste ano.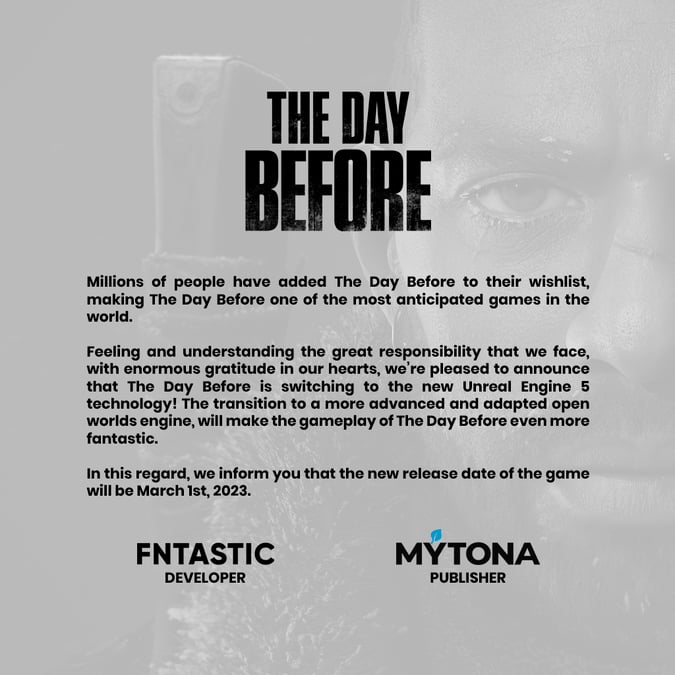 "Sentindo e entendendo a grande responsabilidade que enfrentamos, com enorme gratidão em nossos corações, tivemos o prazer de anunciar que The Day Before está mudando para a nova tecnologia Unreal Engine 5! a jogabilidade de The Day Before ainda mais fantástica".
The Day Before é um MMO de sobrevivência em mundo aberto que se passa nos Estados Unidos durante uma terrível era pós-pandêmica infestada de pessoas infectadas sedentas por carne e sobreviventes que exterminam uns aos outros para garantir comida, armas e veículos.
Vale citar que The Day Before possui o titulo de jogo mais desejado atualmente na Steam (PC), ficando na frente de jogos como Hollow Knight: Silksong, Party Animals e S.T.A.L.K.E.R. 2: Heart of Chornobyl.